>
NYPD Harbor Unit Chooses DuraBrite to "Dazzle" its Fleet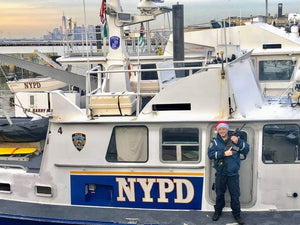 The Product Solution
Harbor Unit  members take multiple roles within the Port of New York. Traditional search and rescue duties include incidents of swimmers in distress, disabled boaters, and bridge jumpers. The Harbor Unit also engages in proactive initiatives like daily ferry escorts, waterside facility patrols, and dives by the NYPD SCUBA Team at critical infrastructure locations, such as bridges and sea walls. The NYPD Scuba Team uniquely benefits from the upgrade with better light penetration into the murky waters of the Hudson river that flows along the Manhattan Skyline.
Because of the importance of its mission, the team's vessels must be equipped with the most powerful illumination tools on the market. DuraBrite's Mini series delivers optimal optical output, ruggedness, durability, and power. Its innovative engineering harnesses the latest in lighting technology to illuminate tight spaces on the water, and its long-lasting portable battery packs allow the unit to perform under tough time constraints and for extended periods. 

The Mini Series provided excellent light coverage in the water that aided time and again in rescue efforts to pull people from the water. The solution also helped officers avoid dangerous objects that radar cannot pick up.
Custom Feature Development
To provide an added layer of protection for crew, the lights were customized with the added option to switch from search lights to "Dazzler Strobes" to both protect the officers and deter any individuals approaching with bad intentions. This powerful strobe feature rapidly pulses each light and creates a very uncomfortable situation for anyone from boat thieves to active shooters. Interested in learning what DuraBrite can do to outfit your fleet?
Mini Series Product Specs
16,670 Lumens
Beam Angle 76 Degree for Flood
Beam Angle 20 Degree for Spot
100W at 12V, 144W at 24V
5000K Cool White Optics
Patented Optical Circuit
Stainless Steel Bracket Included
IP68 Certified & Tested
Dimensions: 12.9" x 8.3" x 3.1"
Black or White Exterior
Designed & Assembled in the U.S.A.
Looking to equip your tactical team or agency with top-notch solutions from DuraBrite?
Contact us