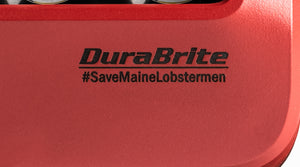 Patented Optical Circuit
DuraBrite products feature a unique bulb layout designed to minimize shadows and light gaps. Each Mini luminaire consists of 21 bulbs, while each Pro and Standard luminaire features 63, all working in unison to create a single exceptionally uniform light beam – an important safety feature for superior visibility.
Our lights run cool, but more importantly they display a consistent uniformity of temperature among all LED bulbs, never reaching more than a 10°C difference between the hottest and coolest bulb. To achieve this, all of our lights are thermally imaged, and each image is closely examined to ensure it passes our strict temperature homogeneity requirements. This guarantees a uniform brightness for each luminaire.
In the rare event that a chip should burn out; the rest will continue to illuminate with reliable performance. This winning combination of innovative technology, cutting-edge materials and our thorough attention to detail, results in a superior product, every time. 
Light Shaping Technology
DuraBrite's light shaping diffuser changes the beam angle on the spot from 20 degrees to 76 degrees on the flood using the world's most advanced material-science and physics-based technology.  In addition, as LED chip manufacturing has matured in recent years, we've identified industry trends of using just a few large LED chips to attain the same overall optical output at substantially reduced costs and with inferior optics. 
DuraBrite didn't just follow this trend. We instead used 63 LED chips with a precisely engineered collimator and a light shaping diffuser to create a concise, reliable and uniform beam projection.  
Our commitment to science and technology is a key component of our innovative, high-efficiency product line, which transcends normal light into the world-renowned DuraBrite.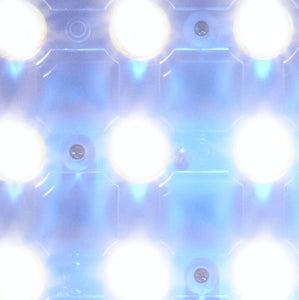 Venting System
DuraBrite products use a military grade venting system from Gore that prevents condensation build up, which can "fog" a light. The light can basically breathe –as water vapor is drawn out, water droplets are unable to come in. 90% of other lights on the market lack this feature.
DuraBrite draws on substantial experience from aerospace and military electronics design, having successfully implemented this venting technology across many projects in these fields. This is a crucial benefit; especially for high optical output LED marine lights, as a bright and clear light can perform reliably to insure visibility on the water in any weather condition. 
Because of this breathability, our products ensure equalized pressure so that each light won't go out of shape. In other words, the lens will always look perfectly flat no matter how many days it's put to use and no matter the conditions. Finally, thanks to this lack of pressure differential, our products' seals won't be compromised over time and the IP67 waterproofness rating can be maintained for the entire life of the product.
High-Performance Materials
Some of our competitors settle for using plastic in manufacturing when they need to cut weight because it's an "easy" and inexpensive path. DuraBrite however, prefers the "best" way to design and uses something far more rugged – an advanced engineering composite called Ultem 2300 to construct a high strength but ultra-light frame around each light fixture.

This material is 30% glass fiber-reinforced, with similar elements employed in state-of-the-art aircraft fuselages. It features the winning attributes of a high-performance polymer with resistance to extreme temperatures, exceptional flame and heat resistance, and the ability to endure up to 340°F and down to -67°F.
But we didn't just stop there. Our lights are also 100% waterproof, and tested for their respective ratings. Finally, to guarantee product integrity, each and every light is rigorously tested before we ship to you.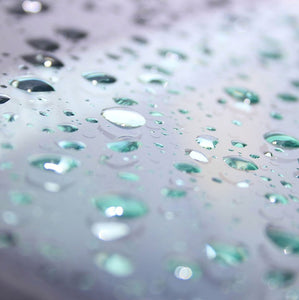 Weather Resistant Coating
The Durabrite name is not just for lights. Our own line of Super Hydrophobic Ceramic Defense Coating Series uses state-of-the-art technology to enable your items to have maximum durability and stay new longer as well.
Factory applied or field retrofitted, this coating will turn your investment into a self cleaning, UV resistant, game changer for all kinds of extreme applications, including marine, high-end automotive, and construction.
Its nano-ceramic technology brilliantly protects surfaces against corrosion, oxidation, and chemicals. The 9H hardness helps protect surfaces from micro scratches. Its super hydrophobic properties naturally leave a nice glossy finish and provide a new level of previously unavailable preventative protection.